"The Executive Board is steering the ship, some volunteers are pulling the oars, but right now it seems we have more passengers on board the SS NAP!"
Troy Boyle, President of the National Atheist Party
Volunteering is not enough, we need a commitment and a dedication that comes with true activism. The NAP has seen volunteers come and go, but we need them to 'stick' to the original cause of turning this from a thought to a reality. We need to re-energize and work through the roadblocks that we will encounter and keep moving forward!
As the NAP membership count continues to swell, the need for more volunteers within our organization has grown as well. Yet, many of our members remain unclear about how to volunteer, why a commitment to volunteering is important or how to remain engaged and committed. While this Party may still be young, we've come a long way since its inception in March 2011 – all thanks to a core group of volunteers who have remained dedicated to the NAP and its mission. To continue this growth and to reach our sizable goals, however, we need the support of ALL of our membership. Simply put, if we don't have a vested membership, we will never make a significant impact in the political arena. If we are to make our voices heard, we need to keep moving forward.
Volunteering your skills, time, and/or financial support are all proof that you are banking on the NAP's success. Furthermore, the dedication you show to the Party helps it grow in three significant ways. First, the support you provide to the Party allows other volunteers to use their time and skills more effectively. Clearly, the more people we have to handle the tasks required to make our Party grow, the more we will get accomplished. Second, your volunteerism helps the Party reach a broader range of potential members and financial supporters. Third, your visible dedication to the Party inspires others to develop the same level of commitment, making them more likely to volunteer their time as well.
Of course, being committed to this worthy cause can also bring about a great deal of personal satisfaction. Not only is volunteering a good way to show support for the NAP, but the entire atheist move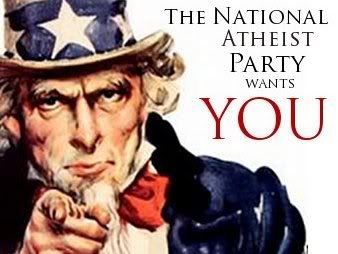 ment will succeed because of your involvement. In this sense, this allegiance to the NAP becomes a very noble deed with the potential to significantly impact our country's future. Just imagine a country where legislation and political decisions are based on logic and reason. YOU could play a significant role in making this dream a reality.
The bottom line is that the National Atheist Party NEEDS passionate and committed activists who possess the skills necessary to staff available positions. You may not think you can play an important role within the Party, but every little bit helps. Not only do we have a wide variety of open positions available that are in need of immediate staffing, but we also have several small tasks in need of completion. Just let us know how you can be of service and we will put you to good use!
So, what are you waiting for? DECIDE to commit yourself actively and volunteer within the Party! BECOME one of the building blocks necessary to make the NAP a success! Let's put all of our mad skills together and give the National Atheist Party the momentum it needs to truly become a force to be reckoned with! We've come so far; we can't stop now!
Click Here for Volunteer Opportunities!
Leave Reply